HELPING YOU
CONNECT
TO WHAT MATTERS
MOST TO YOU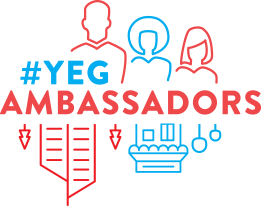 HELPING YOU
CONNECT
TO WHAT MATTERS
MOST TO YOU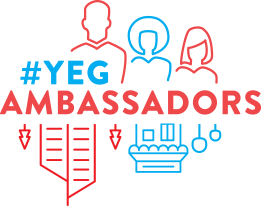 Connecting with Community Businesses
Ambassadors connect businesses to the resources an services to help them and their customers enjoy their experience.
Connecting with Community Agencies
Ambassadors build knowledge and relationships with social agencies in the neighbourhood.
Connecting with Community Members
Whatever brings people to the area, Ambassadors are there to ensure they have the resources they need to feel welcome and safe.
YEG Ambassadors is a good start to our city in finding new ways to meet the community and to bridge the gaps. Knowing there are folks who will be visiting and checking in helps us feel supported in helping those in need.
We Connect
Connections are what make communities strong and vibrant. Ambassadors work at amplifying and fostering those connections by engaging with community members and businesses.
We Inform
YEGAmbassadors let the community know what's going on in regards to events, projects or changes that might impact them. We are the eyes and ears on the street.
We Engage
YEGAmbassadors engage individuals with specific cultural, social and economic diversity in mind.
We Empower
We employ strategies that build capacity and contributes to the change being led by City Council initiatives.



Community & Business
Resources
Do you have aconcern but do not know how to reach the right person to talk to? Do you want to connect with a city service to find out more information about it? Check out our resources page to find what you're looking for.
News & Events Around
the Community
Ambassadors work to keep up to date with the news and events in the community. From big ticket events to community gatherings, Ambassadors are your connection to insider community news.
Follow us on social media to get the latest updates with what we're doing!
Follow any of the following platforms to stay in the loop!